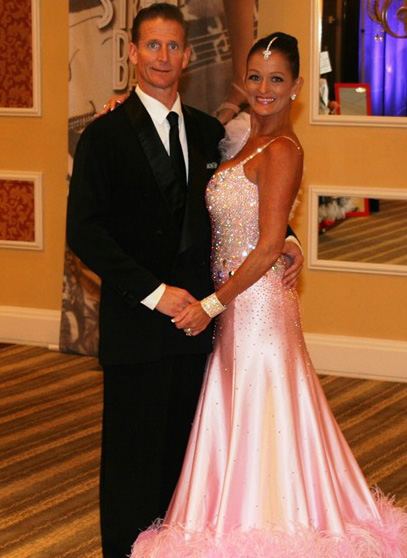 Johnny and Lisa PerMar are professional dance instructors with 30+ years experience and are the event organizers for WILL DANCE FOR FOOD and The HUNGER BALL charity events.
Specializing in American style Smooth and Rhythm dances and West Coast Swing. They have been in Naples for nine years and currently run the ballroom program at Naples Performing Arts Center.
A few of their accomplishments include:
Two-time FL State West Coast Swing Champions: Johnny and Lisa were the very first FL State WCS Champions and the only couple to have two consecutive championships, thus
far.
First Place US National Dance Champions and Second Place in the Caberet division.
Harborview Dancesport Open Professional Dance Champions.
---
Johnny is currently competing professionally in American Smooth with his new partner, Austrian National Champion, Gabriella Bodocs-LoBello. Their new partnership is climbing the ranks quickly as they are already Grand Nationals Invitational Open Professional American Smooth Finalists.
Growing up in Dayton, Ohio, Lori attended a school that specialized in the performing arts. She was in her first show, "The King and I," at age five and continued with lead and ensemble roles through high school. Lori earned a bachelor's degree in behavioral sciences and psychology from North Central University in Minneapolis. She went on to pursue a master's degree in educational psychology at Bradley University.
Lori Oliver has added her keen eye for direction to some of southwest Florida's largest community events. For seven years, Lori directed a local version of "Dancing with the Stars" benefiting Literacy Volunteers of Collier County. She directed entertainment at the 2012 grand opening gala for the Golisano Children's Museum of Naples, the 2013 American Girl Fashion Show, and the 2015 Patriot Pops performance at Artis—Naples among other big name events.
In the summer of 2015, Lori launched "I'm a Star" — the first-of-its-kind program which gives special needs children the opportunity to train in musical theater and feel the joy of performing on stage.
She credits a love for the performing arts from years of watching her mom direct a 100 voice choir at her dad's church. Lori's parents, Dave and Jan Ridge, live in Estero and remain active supporters of Naples Performing Arts Center.
---
Lori is married to NBC2 News Anchor Chad Oliver. The two met while partnering and winning "Best Dance" during the 2011 "Dancing with the Stars" for Literacy. The couples lives in Bonita Springs with two children, Allie and Luke, who both take part in NPAC's Junior Stage and Main Stage Productions.