Cocktails & Chats with Lori – Parents ONLY
Cocktails & Chats with Lori – Parents ONLY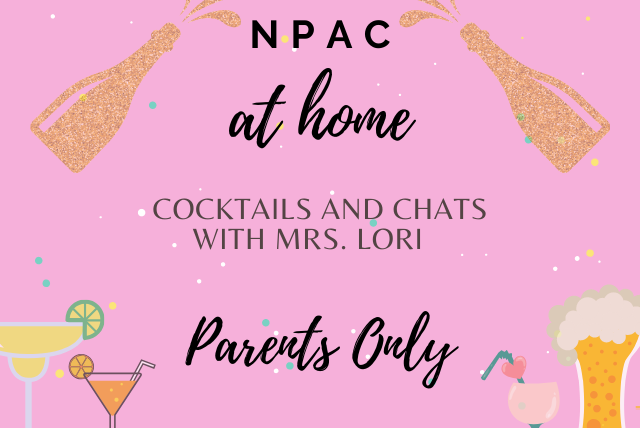 Let's talk about this "Theater Thing"! June 4th
Thursday, June 4th at 7:30pm
Parents ONLY
$20
Session will be held through Zoom
Grab a cocktail and let's have some adult chat time. This is a Question and Answer session with Lori Oliver, to ask any and all questions regarding this crazy musical theater thing. "Why does my child like this so much?" "How can they use this in life?" "What if they want to do this as a career?" "How does the whole college thing work?" Maybe you have shows or classes you would like to see at NPAC? This is your time as a parent, to sit and discuss with our Artistic Director and other parents, all things that come with being a Musical Theater parent!
---
Let's talk about the "Theater Process"! June 11th
Thursday, June 11th at 7:30pm
Parents ONLY
$20
Session will be held through Zoom
Grab a cocktail and let's have some adult chat time. "OMG, why is my child always in the ensemble!" Have you ever wondered how the casting process works? Why do some kids get more leads than others? What does it take to get a lead? Let's chat about how you can assist your child in preparation for auditions and what your role plays in affecting their mental state at their audition. What is the best way to set your child up for success! Let's talk about all of this.
---